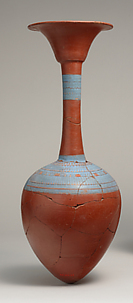 Period: New Kingdom
Dynasty: Dynasty 18
Reign: reign of Tutankhamun
Date: ca. 1336-1327 B.C.
Geography: From Egypt, Upper Egypt, Thebes, Valley of the Kings, Embalming Cache of Tutankhamun (KV 54), Davis/Ayrton excavations, 1907-08
Medium: Pottery, hematite wash, burnished, pigment
Dimensions: H. 37 x Diam. 15 cm (14 9/16 x 5 7/8 in.)
Diam. of mouth 12 cm (4 3/4 in.)
Credit Line: Gift of Theodore M. Davis, 1909
Accession Number: 09.184.83
Information about hundreds of thousands of works of art is available in The Metropolitan Museum of Art's
Collection Database.
Photograph Credits
|
Terms and Conditions
|
Privacy Policy
(C) 2000-2016 The Metropolitan Museum of Art. All rights reserved.